In this article, we explain where Montalbano Beach House is, and how to book your stay at the B&B La Casa di Montalbano. What to see in this amazing filming location called Punta Secca in Sicily. Things to do in Punta Secca. Best restaurants and dishes in Montalbano's Montelusa. Also, we share a video of our stay at Montalbano's House. Let's see!
Montalbano Beach House
Since the first scene of Montalbano, the house on the beach, with the sea almost reaching the walls has left us shocked and delighted wondering if there is such a place, a house located almost on the sea. Not to mention the breathtaking view from the terrace.
The most striking thing is that Montalbano Beach House is a real place, and you can even stay overnight!
The Montalbano Beach House functions during the year as a Bed & Breakfast and, during the filming season, as a film set for Detective Montalbano (Inspector Montalbano UK). It was also a film set for the prequel, The Young Montalbano (Il giovane Montalbano).
When we looked to stay in September 2022 it was not possible because they were filming an episode of Montalbano that is expected to be broadcast in 2023. So we had to run our stay to the first week of October 2022 by the time they finished filming. Of course not, the B&B does not function as such during the filming season.
During the filming of the TV series Montalbano, the first floor of the house is slightly modified, as you can see in the pictures below.
Montalbano's bed, which we saw so many times that Salvo shares with Livia, is placed near the window that overlooks the terrace. So the dining table is removed. The living room area is also slightly modified for the filming. However, the piano, sofa, books, and decorations are present during the B&B operation.
Montalbano's Beach House also has the iconic terrace where we so often saw Salvo having breakfast, dinner, or a glass of wine.
This terrace is available for the guests of the Montalbano Beach House to enjoy the view and sunbathe on the shores of the Mediterranean Sea.
Where is Montalbano Beach House?
As already mentioned, Montalbano Beach House is a real filming location, very easy to access for tourists from all over the world arriving in Sicily.
Montalbano Beach House is located in Punta Secca, Sicily, within the province of Ragusa. In the fiction, the house is located in Marinella, Montelusa. Punta Secca is a small coastal town, 100% tourist, full of Airbnb, Booking, restaurants, and bars.
The exact address of the Montalbano Beach House is "Corso Aldo Moro, 44, 97017 Punta Secca, Ragusa, Sicily, Italy". Easily find it with your GPS.
If you plan to visit Sicily and Montalbano's filming locations, we recommend you navigate through InspectorMontalbanoSicily.com to find Where Inspector Montalbano Live and How to Get There from Comiso Airport and Ragusa Ibla
The Scalambri Tower is located in front of one of the sides of the house, meters from the beach. In front of the house of Montalbano is a statue bust of the created Italian detective novel, the Sicilian writer Andrea Camilleri.
Punta Secca is located near more populated towns such as Santa Croce Camerina and Marina di Ragusa, and only 30 minutes drive from the capital city of Ragusa, highlighted by the baroque art of Ragusa Ibla, also one of the frequent Montalbano locations.
Tourists from all over the world, and especially fanatics of both the TV series Montalbano, and the novels written by Andrea Camilleri visit Sicily every year to visit the beaches of Punta Secca. They yearn to meet and be in each Montalbano filming location in Sicily.
See the Montalbano Beach House, tour the same beaches as Luca Zingaretti when he plays Salvo Montalbano, and even swimming where Montalbano swims is priceless.
In addition to the Montalbano Beach House, in Punta Secca you will find the Montalbano Lighthouse and Enzo a Mare, one of Montalbano's favorite restaurants.
Follow the link to learn more about Inspector Montalbano's House Location.
Montelusa
Although Camilleri gave life to the novels of Il Commissario Montalbano, some fictional cities such as Montelusa were taken from another Sicilian writer, Luigi Pirandello.
The 1934 Nobel Prize winner, Luigi Pirandello, in the novel "Tonache di Montelusa e Altri Racconti", uses the fictional city of Montelusa as one of the locations for its characters. Camilleri, a Pirandello's reader and also a writer who curiously was born very close to Pirandello's hometown, took Montelusa's name and placed Montalbano's novel between Marinella, Montelusa, and Vigata.
Since Camilleri's first Montalbano novel, published in 1994, "The Shape of Water" (La forma dell'acqua), Montelusa is alive in Punta Secca and Ragusa area. Both writers were from the province of Agrigento.
La Casa di Montalbano Booking
Regarding the B&B La Casa di Montalbano, it is relatively comfortable, and the attention is adequate. The minimum stay is 2 nights.
Bed sizes can be somewhat small if you are looking for double beds larger than a queen size. You will hardly find King Size mattresses or bathtubs in Sicily.
However, the rooms are air-conditioned and clean, and the bedding is nice. Wi-Fi internet connection is included in the cost of the room. The room consists of beds, a private bathroom, adequate furniture of a small refrigerator that is very practical to keep refrigerated some gourmet delight of the area and enjoy at night on the terrace.
When we stayed in 2022, La Montalbano Beach House did not have any disabled access and there is no access to wheelchair beaches. Other cities like Ragusa are looking for greater accessibility, but wheelchair access, in general, is quite complicated throughout Sicily. 
Breakfast is included and served on the terrace of the Montalbano Beach House. Consists of a simple but well-stocked buffet. Coffee, tea, fruit juices, yogurt, cereals, fruits, pieces of bread, and local pastries are available. To give it the characteristic touch of Montalbano, breakfast also includes some very tasty small tomatoes, called Ciliegino tomatoes from the town of Pachino, near Noto, very famous in Sicily for its exquisite tomatoes. And cheese from the province of Ragusa, famous for its taste and texture, is called Provola Ragusana. It is not a buffet with scrambled eggs and sausages.
The price is very adequate, without being more expensive than other accommodations in the area. A few hours before your check-in time, you will receive the number code for entering the hotel gate and your room number.
If you want to book your stay at Montalbano Beach House (La Casa di Montalbano Booking) this link will take you to the website of the B&B La Casa di Montalbano.
Things to Do in Punta Secca Sicily?
So, What to See and Do in Punta Secca Sicily? Montalbano Beach House, Punta Secca with the lighthouse, and restaurants have great tourist attraction that is worth visiting even if you have not seen all the episodes of Detective Montalbano (USA & Canada) / Inspector Montalbano (UK).
In addition to staying at the Montalbano Beach House or at least watching it from outside, you can visit the Punta Secca lighthouse. Punta Secca's beach is great. You can watch live Montalbano's beach and different Sicilian locations.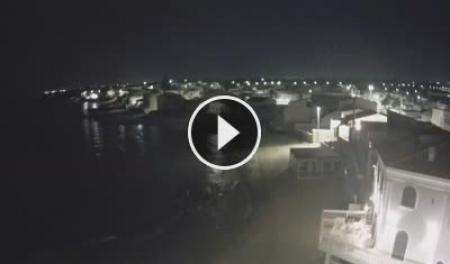 Punta Secca Lighthouse, popularly known as Montalbano's Lighthouse, is just a couple of blocks from Montalbano Beach House. Punta Secca is small, so you can easily walk around the city.
For a small price ticket, you can enter and climb to the top of the lighthouse. We recommend wearing comfortable shoes to do this activity.
Another activity we recommend is trying the different dishes of the restaurants of Punta Secca. Being a coastal city most restaurants offer sea dishes, plates of pasta with various fish, along with other dishes of Sicilian cuisine but there are also good hamburger restaurants and sandwiches of all kinds. 
It is worth mentioning some of the restaurants and dining venues in Punta Secca, Sicily.
Cucina Costiera, near the phare, in Corso G. Verdi Angolo Piazza Faro. We recommend the Fritto Misto di mare and the Caponata di Melanzane.
Tosca is located opposite the Montalbano Beach House in the Scalambri Tower. We recommend the Rilassato sandwich (with Bresaola, rocket pesto, scamorza cheese, and cherry tomato jam), one Aperitivo Tosca to share, and the popular cocktail Aperol Spritz. All served very well.
I Siccari Cucina & Putia, the best Arancini and burgers in town. It offers the perfect menu for tourists who do not enjoy seafood.
Il Bacio di Zefiro, in front of Montalbano beach house, to enjoy fabulous ice cream.
A Musciara Ristorante Pizzeria, it has a nice sea view and is meters from the Montalbano Beach House.
Pappappappero with a good sunny location and Enzo a Mare are also famous in the area.
In conclusion, the Montalbano Beach House, so famous, and easy to visit, is available to see from outside enjoying sunbathing right in front of the house or book and spend some pleasant nights knowing Punta Secca and its surroundings, entering the Sicily of Montalbano.
Recommended post: Where to Watch Inspector Montalbano Online Free Step-by-Step, including a video